Nach dem Motto: "Weniger ist mehr !"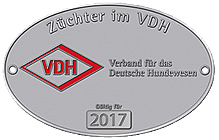 Anmerkung zur Frage: "Dobermann ein Kampfhund?" Der Dobermann ist noch nie ein Kampfhund gewesen. Die Rasse Dobermann ist Deutschlands erste Gebrauchshunderasse noch vor dem Deutschen Schäferhund gewesen. Wichtig bei der Rasse Dobermann ist die korrekte Zucht und Auswahl der Elterntiere. Wir als Dobermann-Züchter, die dem VDH und dem Dobermann-Verein e.V . angeschlossen sind, haben strengen Zuchtbestimmungen zu folgen. Zum Beispiel dürfen wir nur mit Hunden züchten, die eine Zuchttauglichkeitsprüfung (sehr strenge Wesensüberprüfung) bestanden haben, die Hunde müssen eine Begleithundprüfung absolviert haben und mindestens ein Elternteil muß eine bestandene Gebrauchshundprüfung nach IPO (ehem. Schutzhundprüfung) nachweisen, nicht zu vergessen, daß beide Elterntiere frei von HD (Hüftgelenksdysplasie) sein sollten. Nicht zuletzt ist auch der spätere Besitzer des Dobermanns für die konsequente Erziehung verantwortlich. Hierfür stehen wir selbstverständlich gern mit Rat und Tat zur Seite.
As the saying goes, "less is more!"

Here in Germany a popular hysteria prevails over so-called "fighting dogs"where the Doberman is also mentioned. Note the question: "Is the Doberman a fighting breed?" The Doberman was not bread to be used as a fighting dog. The breed Doberman was Germany's first working dog breed, long before the German shepherd. Important in the breeding of the Doberman is the correct character selection of the parent animals. We as Doberman breeders who are members of the Union of German Dog Breeders ( VDH ) and thus the Doberman registry association (Dobermann-Verein), have to follow strict breeding regulations. For example, we may breed only with dogs which have passed a breed fitness check (very strict character test called ZTP), for which dogs must have completed an obedience examination
(Begleithundpruefung) and at least one of the parents must pass a guard-dog examination IPO (Schutzhundprüfung), not to mention that both parent animals should be free of HD (Hueftgelenksdysplasie.) Last but not least, the new owner of the Doberman is responsible for consistent education of their dog. For this we are naturally glad to provide advice and offer assistance to every client.